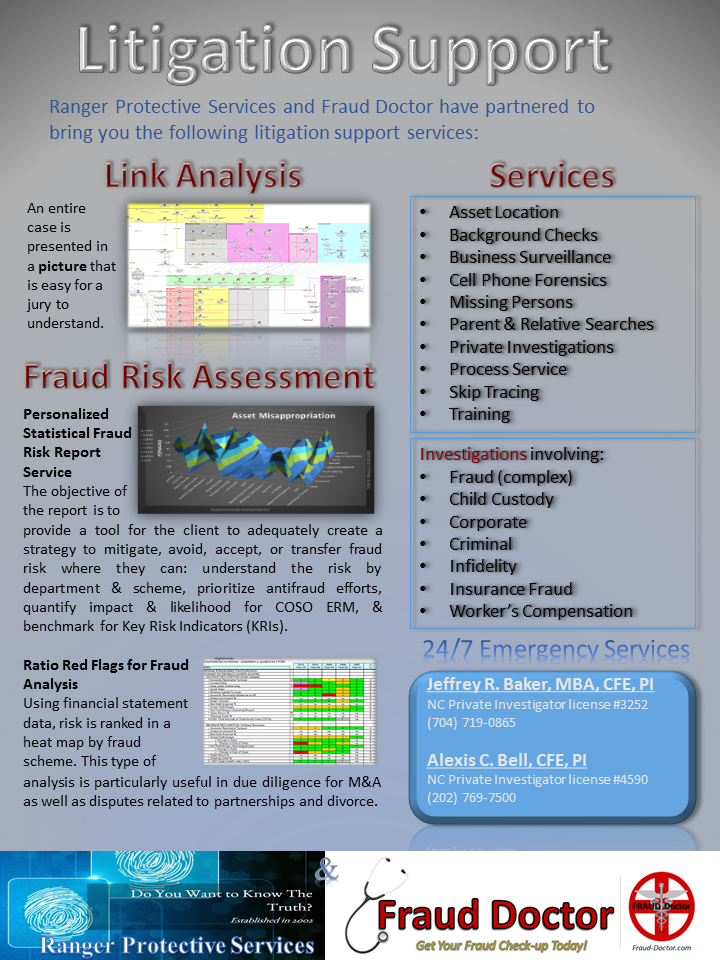 Ranger Protective Services and Fraud Doctor have partnered to bring you the following litigation support services:
Link Analysis
An entire case is presented in a picture that is easy for a jury to understand.
Fraud Risk Assessment
Personalized Statistical Fraud Risk Report Service
The objective of the report is to provide a tool for the client to adequately create a strategy to mitigate, avoid, accept, or transfer fraud risk where they can: understand the risk by department & scheme, prioritize antifraud efforts, quantify impact & likelihood for COSO ERM, & benchmark for Key Risk Indicators (KRIs).
(Sample Personalized Statistical Fraud Risk Report)     (Order Here)
Ratio Red Flags for Fraud Analysis
Using financial statement data, risk is ranked in a heat map by fraud scheme. This type of analysis is particularly useful in due diligence for M&A as well as disputes related to partnerships and divorce.
Services
Asset Location
Background Checks
Business Surveillance
Cell Phone Forensics
Missing Persons
Parent & Relative Searches
Private Investigations
Process Service
Skip Tracing
Training
Investigations involving:
Fraud (complex)
Child Custody
Corporate
Criminal
Infidelity
Insurance Fraud
Worker's Compensation
Contact:
Jeffrey R. Baker, MBA, CFE, PI
NC Private Investigator license #3252
(704) 719-0865
Alexis C. Bell, CFE, PI
NC Private Investigator license #4590
(202) 769-7500
---
Download the Litigation Support Services PDF file